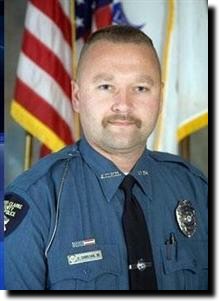 Elmer "Buddy" Basco Christian III Colbert

A son, brother, grandson, cousin, friend, husband, father, and HERO has fallen and caught a carriage ride to Heaven.

A native of Madison County, Buddy was the son of Elmer Basco Christian II and Carolyn Roberts Christian. He was a graduate of Madison County High School and served as a Senior Police Officer with the Athens-Clarke County Police Department for the past 8 years and was also a member of the Clarke County Police Honor Guard. Buddy was a volunteer fireman and former Chaplin for the Hull Fire Department, he worked security at GA Square Mall, was a part-time employee at Bernstein Funeral Home, and a farrier for family and friends. Buddy was an active member of Hull Baptist Church where he served as a deacon, as well as an Awana youth group leader.
Survivors in addition to his parents include wife, Melissa Rutledge Christian; daughter, Callie Christian; son, Wyatt Christian; brother, Jason Christian of Ila, GA; paternal grandparents, Kenneth and Martha Roberts of Jersey, GA; paternal great-grandmother, Estelle Rayburn of Albany, GA; mother-in-law, Paulette Watkins of Winder, GA; father-in-law, Roger Rutledge of Buford, GA, and maternal grandmother-in-law, Ruth Watkins of Winder, GA.

Funeral services will be held 2PM Sunday, March 27th at the Athens Classic Center, 300 N Thomas Street, Athens, GA 30601 with Rev Randy Crowe officiating. Interment will follow at Evergreen Memorial Park. The family will receive friends Saturday, March 26th at Bernstein Funeral Home starting at 4PM.

Donations to the Buddy Christian Memorial Fund may be made at any Athens First Bank & Trust location or mailed the bank's headquarters at 150 W. Hancock Ave., Athens, GA 30601. The money will benefit Buddy's wife and two children.

Online condolences may be offered at www.bernsteinfuneralhome.com

Bernstein Funeral Home and Cremation Services is in charge of arrangements.