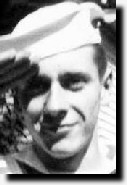 SIDNEY _ Richard (Dick) Sprague Cooley, age 90, resident of Sidney, and Ellenton, Fla., passed away peacefully at Tri-Town Regional Hospital, Sidney, on Monday, June 20, 2011.

Richard was born on April 4, 1921, in Oneonta, son of Henry Wilson and Grace Sprague Cooley.

A lifelong resident of Sidney, he attended Sidney Central School and graduated from Bowman Technical School in Lancaster, Pa., where he studied watchmaking and fine engraving.

He married Katherine (Kay) Jeanette Wadsworth of Mount Upton in June 1943. At his death, they had been married 68 years.

He was a U.S. Navy veteran and proudly served his country during World War II on the destroyer escort, Ira Jeffrey in the Atlantic and on the USS Alcor in the Pacific.

When Richard returned from the service, he joined his father, and his brother, George, in H. W. Cooley and Sons Jewelry Store in Sidney, where he was known and respected for his fine hand engraving skills. He retired in 1995, and thoroughly enjoyed his 16 years of retirement.

Richard relished many pastimes throughout his life. Foremost he enjoyed camping with his family. Starting with a tent, the family quickly graduated to a pop-up trailer which Richard built in his basement using a Model T axle and a canvas covering sewed by his wife, Kay.

The family traveled to state campsites most every weekend and spent two memorable weeks in Cape Cod every summer.

For the last 20 years, Kay and Dick have summered in their travel trailer close to their family at Tall Pines Campsite, East Guilford, camping to the end.

Richard also was an avid outdoorsman and hunted, fished and foraged in the hills and streams around Sidney. An accomplished swimmer, he earned his life savings certificate at the Sidney pool.

Later in life he took up golfing and enjoyed many happy days on the links with Kay and their friends. Richard was a great cook and was known for many specialties which he loved to make for his family including creme puffs, soft pretzels and "Dick's Chicken." His macaroni and cheese was the best in the world.

He was active in several community organizations including the BPOE, the Vestry of St. Paul's Episcopal Church in Sidney, St. Mary's Episcopal Church in Palmetto, Fla., and Phelps Hose Company, Sidney. He was also a proud life member of Veterans of Foreign Wars and the American Legion.

He passed away suddenly and quietly with his loving wife, and daughter, Rachel, at his side. Richard and Kay had returned to Sidney Tall Pines to camp for the summer where he had enjoyed many happy days and celebrated Father's Day, before his death with his family. Spending time with his family meant the world to him.

Richard would always say that he loved "all his girls" and there were a lot of them in his family.

He is survived by his loving wife, Kay Cooley, Sidney and Ellenton, Fla.; his daughters, Rachel Cooley, Sidney, and Pamela Cooley, East Worcester, (and friend David Lubell); granddaughters, Grace Payne-Smith, Sidney (and husband, Chad Smith), Willa Payne, Unadilla, (and friend Neal Miley), and Hana Payne, Fleetwood, Pa., (and friend Paul Crognale); and his great-granddaughter, who he loved to make popcorn for, Nayla Seiko Miley. Richard is also survived by several beloved nieces and nephews, including Richard (Rich) Cooley, Sidney, who was like a son, and Claudia Hendricks, Ellenton, Fla., who provided love and support. Richard was loved dearly by his family and will be missed greatly by all "his girls."

Graveside services, with military honors, will take place at 11 a.m. Monday, June 27, 2011, in Prospect Hill Cemetery, Sidney. Fr. Jim Shevlin, pastor of St. Paul's Episcopal Church, will officiate. Family and friends are invited to gather at the family home at 5 Willow St., Sidney, following the ceremony.

In lieu of flowers, donations can be made to the Sidney Veterans Memorial Park in care of the Sidney Community Foundation, P.O. Box 333, Sidney, NY 13838 or to the Sidney Fire Department, 72 River St., Sidney, NY 13838.

Condolences may be sent to the family online at www.landersfh.com. Arrangements under the direction of C.H. Landers Funeral Chapel, 21 Main St., Sidney.