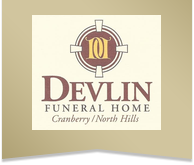 Devlin Funeral Home
2678 Rochester Rd, Cranberry Twp
DOHN, Virginia C., 86, of Pensacola, FL, formerly of Pittsburgh, passed away peacefully on January 28, 2017. Mrs. Dohn was born on Feb. 3, 1930 in Pittsburgh, daughter of Joseph and Martha (Kirk) Heurich.
Beloved wife of the late Raymond H. Dohn Sr.; loving mother of Ginny (Bryan Kenady) Dohn, Raymond H. (Deanna) Dohn Jr., Richard (Sandra) Dohn and Sandy Dohn; and sister of Marie Muehlbauer.
Virginia is also survived by her 7 grandchildren, Anne, Krista, Tara, Richard, Vincent, Christina, and Hunter; and 4 great-grandchildren. Per Virginia's wishes, services and interment will be private.
Arrangements are by DEVLIN FUNERAL HOME, 2678 Rochester Rd,. Cranberry Twp.