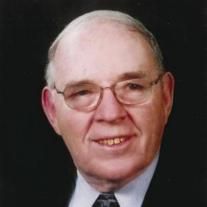 James Wallace Hardy, age 73, of Knoxville, formerly of Mansfield, left his earthly home to meet his heavenly Father, Tuesday afternoon, January 8, 2013.
Growing up in Mansfield, he was a former member of First Christian Missionary Alliance Church. James was born to the late Vera and Roy Hardy and was actively involved in several churches over the years as his homes included, Idaho, Texas, Ohio, California and Knoxville, Tennessee, serving as a Sunday School Teacher, Bible Study, Facilitator, Deacon, Treasurer and serving in the Children's Choir. James served in the United States Air Force from 1961 to 1965 as a First Lieutenant.

He was preceded in death by his parents and first wife, Nancy Janette Meyer Hardy. James is survived by his wife, Virginia Jean Carey Hardy; sons and daughters-in-law, Michael Wallace and Becky Hardy of Cincinnati, Ohio and Todd Kyle and Connie Hardy of Dallas, Texas; step-sons; Stephen Dale Carey of Des, Moines, Iowa, Richard Duane and Deborah Carey of New York City, and Jeffrey A. Carey of Atlanta, Georgia; grandchildren, Carolyn, Jonathan, David, Rachel and Megan Hardy; step-grandchildren, Lucas, Dustin, Eric, and Lauren Carey and several cousins.

Friends may call Sunday, January 13, 2013 from 4:00-6:00 p.m. at the Ontario Home of Wappner Funeral Directors, 100 S. Lexington-Springmill Rd., Ontario. Funeral services will be held Monday, January 14, 2013 at 10:30 a.m., conducted by Rev. Thomas Madden.
Burial will follow in Mansfield Memorial Park. In lieu of flowers, memorial contributions may be made to First Christian Missionary Alliance Church, 291 W. Cook Rd., Mansfield, OH 44902