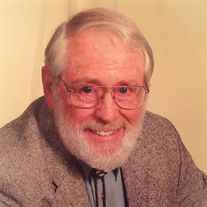 Jim McWhorter of Smyrna, GA, went with joy to be with the Lord April 12, 2015; nine weeks after the passing of his wife Helen.
An Atlanta native, Jim graduated Murphy High, then attended Truett-McConnell College where he met Helen. Jim began a printing career at Atlanta Blue Print, then opened Cobb Reprographics in Marietta. In 1980, he opened a print shop at Mount Paran Church of God where he later retired. He was a faithful man of God with a deep love of family and unforgettable sense of humor.
Jim is survived by his daughter Kathleen McCook and husband Don; son Keith McWhorter; and grandchild Caitlin McCook.
A unique, casual celebration of his life will take place at 11:00 a.m. April 16, at Castellaw Funeral Home in Smyrna. Everyone is invited to wear jeans , share their "Jim" stories, and sing his favorite hymns.