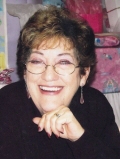 Lorene Preston, 70, of Hazard, died Friday, Aug. 30 in Nashville, Tn. She was a retired technician for Lexmark, and the daughter of the late Chester Ray Houk and the late Iva Mae Lunsford Houk. She was also preceded in death by her husband, Michael Thomas Preson, and brother Charlie Houk.

She is survived by daughters Nancy Katherin Preston of Winchester, Cynthia Preston Jacob of Nashville, and Michelle "Shelly" Preston Gambill of Hazard; sisters Betty Adams of Indiana and Bonnie Winn of Indiana; brothers Leroy Houk of Indiana, Russell Houk, Earl Houk, Terrell Houk, Cecil Houk, and Jimmy Houk, all of Rockcastle County; grandchildren Greg Gambill, Melissa Preston, and Erin Gambill; great-grandchildren Katherine Tilden, Farrah Gambill, and Jacklyn Gambill; and a host of family and friends.

Arrangements are being handled by Maggard Mountain View Chapel of Hazard, where the services were held on Tuesday, Sept 3 with Rev. A.D. Pete McGee officiating. Burial took place at the Mud Lick Cemetery at Grapvine.