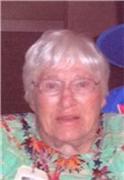 Evelyn Justine Ryan, age 96 of Lecanto, Florida, died Tuesday, September 22, 2015 under the loving care of Diamond Ridge Health and Rehab where she resided since 2009.

Evelyn was born March 25, 1919 in Roosevelt, NY, daughter of Edward and Sarah (Smith) Dennis. Formerly from Long Beach, NY where and her husband Michael raised their family. She was active in St. Ignatius Martyr Parish and the owner and operator of Betty's Card and Gift Shop. She retired to Boynton Beach, FL, moved to Citrus County in 2000 finding a home at The Inverness Club for several years. She was a member of Our Lady of Grace Catholic Church, Beverly Hills. Evelyn enjoyed helping people, giving them advice and praying for their needs. She was a Prayer Warrior, touching and changing the hearts and lives of many.

Loving and in return loved by her family, friends, caregivers and fellow residents at Diamond Ridge, she will be missed by all.

She was preceded in death by her 1st husband, Jack Mautner (in action WWII), her 2nd husband, Michael Barrett Ryan and her brother Radcliffe (Buddy) Dennis. Survivors include 3 daughters, Kathleen (Thomas) Price of Beverly Hills, Mary-Evelyn (William) Reiber of Beverly Hills and Patricia (James) Hangley of Long Beach, NY. 2 sons, Michael (Sharon) Ryan of Lake Worth and Edward (Rita) Ryan of Elmont, NY. 2 brothers, Edward (Shirley) Dennis of ME and John D. McCarthy of NC. 10 grandchildren and 3 great-grandchildren and many nieces and newphews.

Memorial donations may be given to The Intrepid Fallen Heros Fund, Attn: Contributions, One Intrepid Square, W. 46th St & 12th Ave, New York, NY 10036 (http://www.fallenheroesfund.org).

Online condolences may be sent to the family at www.HooperFuneralHome.com. Arrangements by the Beverly Hills Chapel of Hooper Funeral Homes & Crematory.