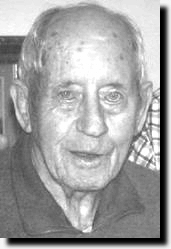 UNADILLA - Richard Walton Schlafer passed away Oct. 19, 2011, in Binghamton General Hospital.

He was born Feb. 5, 1916, in Sidney, to Alexander and Mary Frances (Walton) Schlafer.


Dick was a veteran of World War II serving in Japan during the occupation. Before and after the war, he worked for Scintilla, then Bendix in Sidney, first as a driver then as a group leader. In the 1960s he owned and operated Unadilla Concrete Products and drove winters for Unadilla Oil and Fuel.

He eventually retired as a Teamster after helping to build various segments of I-88 where he was known by all as "Festus." He was a former Sidney fireman in Phelps Hose Company and a lifetime member of McDonald Hose Co. He was a lifetime member of the Unadilla American Legion and past commander of the Sidney American Legion.

As camping chairman of Boy Scout Troop #1 Unadilla, Dick first accompanied the troop to Crumhorm Mountain Camp in 1960 and later took pride in being the oldest living past Scoutmaster of Troop #1. Richard was a mason and member of the First United Methodist Church in Sidney. Fondly known as "Captain Crunch" he was a homespun philosopher with wisdom far beyond his formal education.

He was predeceased by his parents; his daughter, Carmen Mathewson; his sisters, Virginia Shattuck and Jeanette Martin; daughter-in-law, Deborah E. Clune, and grandson, Paul Charles Clune.

He is survived by his wife, Lillian "Sally" Schlafer; sister, Barbara Fitzgerald; daughters, Laura E. Clune and Darlene "Peanut" Hockert (Michael); sons, Richard William Schlafer (Joann), Joseph A. Schlafer (Victoria), and Albert E. Clune; serveral grandchildren, great grandchildren, at least one great great grandchild and numerous nieces, nephews, and cousins.

At Richard's request there will be no calling hours or funeral services. A graveside committal will be held at the convenience of the family. A celebration of Dick's life will be held 1 p.m. Sunday, Oct. 23, 2011, at the Sidney VFW, West Main Street, Sidney.

Arrangements are by Westcott Funeral Home at 123 Main St. in Unadilla.