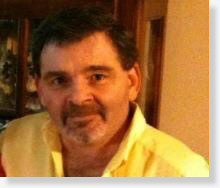 Robert Evan "Bobby" Taber, 51 died in his home Dec. 19th in El Dorado, AR. Robert was born in Sparta, IL on June 5, 1963 to Robert Ernest Taber and Sharon Loraleh Ward.
He is survived by his children; Robert "Christopher" Taber, Tereza Jo Peercy, grandchildren; Gabriel "Gabe", Eliza and Jessie Peercy all of Louisville, KY; his step-mother Lois (Morrison), brothers; Frank Castle, Lloyd Taber, Mark Taber; sisters; Christal DeBoer, Deborah Hepting, Tina Mitchell and Lori Sinyard.
He is preceded in death by his wife Victoria "Vicky" Taber, parents; Robert and Sharon, and recently deceased brother, Kenneth "Kenny" James LeBeau.
A memorial service will be held on Sunday, Jan. 18th at 4pm at College Avenue Church of Christ in El Dorado to honor Robert Taber and his brother Kenny LeBeau. Friends are welcome!