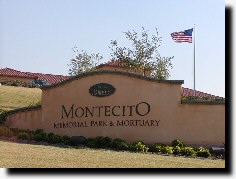 Montecito Memorial Park & Mortuary
3520 East Washignton St, Colton, CA 92324

Listing ID: 15-0205-2
Property Type: Grave Spaces
Quantity: (3)
This property verified as available as of 02/05/2015

Garden: Garden of Distinction
Section: 43
Lot(s): 187
Grave Number(s): 1, 3, 4


Seller Price: $11,985.00 for all


Cemetery Retail: $14,985.00 for all


Savings: $3,000.00


Email: private@thecemeteryexchange.com
PLEASE NOTE: This is a PRIVATE Listing. Please click on the email link above. Please include your name and contact information when responding so we may put you in contact with the seller.

These three spaces are close to the entrance with easy access from the street. They are near the beautiful Military statue. There are beautiful weeping willow trees near by. The lawn is green and always kept up. These three spaces set high so you see them from the street. For all 3 spaces your total is $11,995.00. The retail price for each space is $4,995.00. You are saving $3,000.00.
The Seller Will:

- Make these Grave Spaces available for Immediate Need


- Pay the transfer fee to the Cemetery