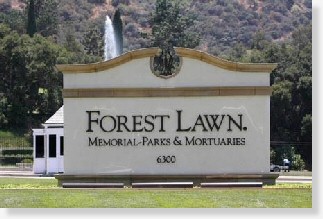 Forest Lawn Memorial Park
6300 Forest Lawn Drive, Los Angeles, CA 90068

Listing ID: 17-0801-4
Property Type: Grave Spaces
Quantity: (1)
This property verified as available as of 08/02/2017

Garden: Eternal Love
Section:
Lot(s): 4895
Grave Number(s): 2


Seller Price: $8,000.00


Email: private@thecemeteryexchange.com
PLEASE NOTE: This is a PRIVATE Listing. Please click on the email link above. Please include your name, contact phone number, and whether this is an Immediate Need or Advanced Need inquiry when responding so we may put you in contact with the seller.

Located in the Eternal Love section of Forest Lawn Hollywood Hills, right off the main gate, across from the Church of the Hills, shaded by mature trees. Purchased 50+ years ago, but family has relocated. Endowment care included. Many stars rest in this cemetery such as Bette Davis, Liberace, Lucille Ball, William Conrad, Sandra Dee, Steve Allen, and Ricky Nelson.
The Seller Will:

- Make this Grave Space available for Immediate Need


- Pay Transfer Fee to Cemetery