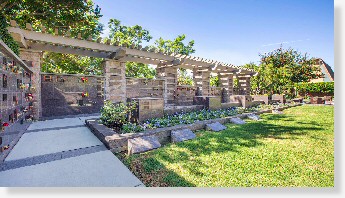 Westwood Village Memorial Park
1218 Glendon Ave, Los Angeles, CA 90024

Listing ID: 18-0301-3
Property Type: Cremation Urn Grave Space
Quantity: (1)
This property verified as available as of 03/01/2018

Garden: Cremation Garden
Section: D
Lot Number(s): 2078
Cremation Grave Space Number(s): 2 - Row 6


Seller Price: $9,000.00


Cemetery Retail: $10,995,00


Savings: $1,995.00


Email: private@thecemeteryexchange.com
PLEASE NOTE: This is a PRIVATE Listing. Please click on the email link above. Please include your full name, contact phone number, and whether this is an Immediate Need or Advanced Need inquiry when responding so we may put you in contact with the seller. We cannot provide contact for you without this information.

Pierce Brothers Westwood Village Memorial Park offers families a quiet, serene oasis within the heart of Westwood, the Wilshire business district and near the campus of UCLA. It is a well-known final resting place of many famous leaders in the business world and of those in the entertainment industry. The grave space now available for sale is an inurnment property, beautifully nestled beneath the shade of a majestic California Oak Tree and conveniently located near a private road, with easy access for grave site memorialization, personal visitation and reflection. This garden is SOLD OUT! There is also immediate access to this site from the Pierce Brothers Memorial Chapel across the way.
The Seller Will:

- Make this Cremation Urn Grave Space available for Immediate Need


- Pay Transfer Fee to Cemetery