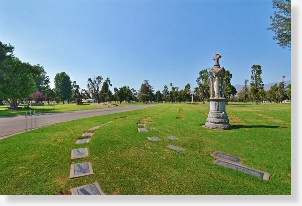 Mt. View Cemetery of San Bernardino
570 East Highland Ave, San Bernardino, CA 92404

Listing ID: 15-0223-2
Property Type: Grave Spaces
Quantity: (1)
This property verified as available as of 11/10/2017

Garden: Magnolia (Upright Monument) Section
Section:
Lot(s): 78
Grave Number(s):


Seller Price: $7,000.00


Email: private@thecemeteryexchange.com
PLEASE NOTE: This is a PRIVATE Listing. Please click on the email link above. Please include your full name, contact phone number, and whether this is an Immediate Need or Advanced Need inquiry when responding so we may put you in contact with the seller.

The space is located in a historic area of the cemetery, allowing upright monuments, within a short walking distance from where Wyatt Earps' immediate family members are buried.
The Seller Will:

- Make this Grave Space available for Immediate Need


- Pay Transfer Fee to cemetery