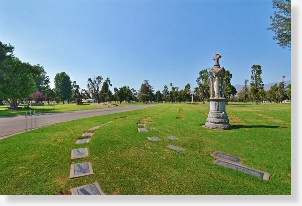 Mt. View Cemetery of San Bernardino
570 East Highland Ave, San Bernardino, CA 92404

Listing ID: 11-0621-1
Property Type: Grave Spaces
Quantity: (1)
This property verified as available as of 02/15/2014

Garden: In Lawn K
Section: 2
Lot(s): 78
Grave Number(s): # BR - 29062


Seller Price: $7,310.00


Email: private@thecemeteryexchange.com
PLEASE NOTE: This is a PRIVATE Listing. Please click on the email link above. Please include your name and contact information when responding so we may put you in contact with the seller.

San Bernardino Mountians is the backdrop, located easy access by road in East San Bernardino Ca. 92404, MT View Cemetery offers a 3-D visual on google web site. Well maintained site, helpful personal. Snow peaked Mountains.

The Seller Will:

- Make this Grave Space available for Immediate Need


- Include Opening & Closing Fee