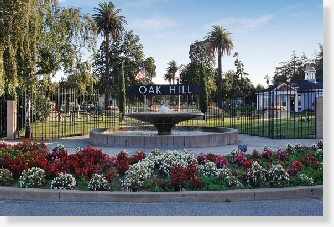 Oak Hill Memorial Park & Funeral Home
300 Curtner Ave, San Jose, CA 95125

Listing ID: 17-0905-1
Property Type: Grave Spaces
Quantity: (2)
This property verified as available as of 09/05/2017

Garden: Section CC
Section: CC
Lot(s): 51-A
Grave Number(s): 1, 2


Seller Price: $26,700.00 for both


Cemetery Retail: $31,900.00 for both


Savings: $5,290.00 for both


Email: private@thecemeteryexchange.com
PLEASE NOTE: This is a PRIVATE Listing. Please click on the email link above. Please include your full name, contact phone number, and whether this is an Immediate Need or Advanced Need inquiry when responding so we may put you in contact with the seller.

The grave spaces are located in the north-eastern portion of Oak Hill Memorial Park near the Palm Circle, in a flat area, easily accessible from the private roadways within the grounds (near "Main Avenue"). Partial shade is provided by established trees. The spaces were purchased in 1960. This is an older section and very few spaces remain available for purchase from the cemetery.
Current retail value is $15,995.00 per space. The 2 grave spaces are adjacent to one another, side by side, and share a blank surface on the existing monument. Inscription on the opposite side of the monument marks the graves of the Bowie Family. Although ownership of the monument is retained by heirs of the Bowie Family, permission to inscribe the blank surface will be granted by a separate agreement to the purchaser of the grave spaces. Retail value of this use of the existing monument is estimated at $1,000.00.

As an incentive to the purchaser, permission to inscribe the monument will be granted at a nominal price. Also, the seller will pay the transfer fee ($395) to the cemetery for completion of the necessary documents.

Oak Hill Memorial Park was established in 1839 and covers approximately 330 acres. Relative seclusion from the busier traffic areas of the cemetery as well as the variety of the existing nearby monuments, of differing styles and from different eras, make these grave spaces especially attractive.
The Seller Will:

- Make these Grave Spaces available for Immediate Need


- Pay Transfer Fee to Cemetery
click on images to enlarge