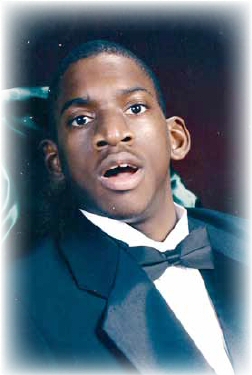 Mr. Morrow Robert Wilson was born on 27 October 1978 to Robert and Daisy M. Wilson in Charleston, SC. Although at the age of 5 months Morrow had a life altering experience that left him forever disabled, he was able to have a productive life. Morrow's life allowed him not only to live, but also he enjoyed his life and gave to so many people, in so many different ways.

He was raised in the Jonesville community. Morrow was educated in the Beaufort County School system, he also attended the Brentwood Elementary School, Charleston, SC, and later moved to Florida with his mother for one term of school. Morrow graduated from Walterboro High School in 2000.
Morrow had many struggles, but he never let his illness get the best of him. He was certainly a fighter in every sense of the word, until his last days. He enjoyed his life and time with his family to the fullest. Morrow loved to attend church, family functions, traveling, and being with his family. One of his greatest joys was going to Disney World with his family.

Morrow received Christ at the age of twelve at First Freedom Baptist Church, Yemassee, SC, where he served as an usher. Later in his spiritual journey, Morrow transferred his church membership to Pilgrim Ford Baptist Church, Yemassee, SC. His greatest desire was to preach the Word of God to the masses.

His infectious smile was a ministry in itself. There was not a person that he met that was not positively affected by him. On November 9, 2012, Morrow slept into eternity. Morrow, you will be missed; however, your absence from us means you're present with the Lord.

Morrow leaves behind to cherish his memory: his mother and father, Daisy M. and Robert Wilson; one brother, Derrick (Dianna) Chisolm-Hamilton; two sisters, Trennessa (David) Gudgeon, Krystal (Eugene) Ford; two grandparents, Rose Ann (Sam ) Taylor and Rosa Lee Wilson; five aunts, Ruthie (Leo) Grown, Johnnie Mae Henry, Rosemary Morris Helen Wilson, Jessie Wilson, and Lois Striven; three uncles, John (Gloria) Chisolm, Jr., James Wilson, Abraham (Lois) Wilson; grand aunts, Cora, Katie, Lane, Doris Mebane, and Vernell Hollloman, Doris Mebane, and Vernell Holloman; grand uncles, Rev. Freddie Hamilton, Sr., MacArthur Chisolm, and Harry Chisolm, Jr.; two ver special friends, Dileatha Washington and Stacy Sharp; God-sister, Pamela Williams; special cousins, Cynthia Chisom, Yolanda Faye Chisolm, Robert (Robbie) Wilson, Tiffany Chisolm-Boyd and Tymeshia Holloman; and a host of other family and friends.

The hours of visitation will be on Monday, November 12th, 3-8 pm in the Chapel of Young Funeral Home, Yemassee, SC. Funeral services will be held on Tuesday, November 13th, twelve o'clock noon in the Mt. Nebo Baptist Church, Yemassee, SC with burial in the church cemetery.