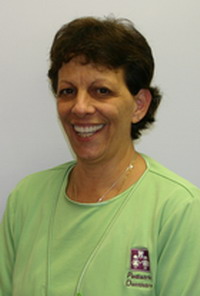 Maria Rose Giuliano, 55, of Riverdale, dies Tuesday, September 11, 2012
Born in Newark, Maria was the daughter of Samuel and Sue Giuliano. She was a graduate of Our Lady of Good Counsel High School, also in Newark.
Maria has worked as a dental receiptionist for Dr. Joseph Giuliano, DDS, is Pompton Lakes for more than 30 years. She also served as an Animal Control Officer for the state of NJ. A resident of Riverdale for the past 15 years, Maria's home was a designated wildlife preserve by the state of New Jersey because of her efforts to feed and care for local wild animals. As a very active volunteer with the Humane Society, Marie served as a "foster home" for many injured birds, dogs and other animals.
She is lovingly survived by her monther, Sue Colonna and her husband Bill; her brothers, Dr. Joseph Giuliano and his wife Linda, Anthony Giuliano and his wife Kim, and Samuel Giuliano and his wife Mary; and her nieces and nephews, Dante, Gabrielle, Craig, Tracy, Jaylan, Christoper, Evan and Alex.
A funeral mass will be celebrated 11:30 am Saturday, September 15 at St. Mary's RC Church, Pompton Lakes. Cremation will be private. The family will receive visitors at the funeral home on Friday fromm 6 to 9 pm.
In lieu of flowers, donations to the Humane Society, 2100 L Street, NW, Washington DC 20037. or http://www.humanesociety.org would be greatly appreciated by Maria's family.